Last week I got the great news that I was accepted for Liljevalchs spring salon 2014 (read more in Swedish). Out of 8805 pieces of work sent to the jury (mixed media but mainly paintings) 4 of my recent drone stamps was accepted. I will display my art together with 152 other emerging and amazing artists starting on the 24th of January 2014. The show is open until 23rd March.
With their own words Liljevalchs art gallery and their the spring salon is:
"The Liljevalchs exhibition programme is directed at both the wider public and those especially interested in a particular artistic output or art and design currents. The opening of each new artistic year is marked by the famous jury-selected Spring Salon.
The Liljevalchs art venue belongs to the City of Stockholm and was opened back in 1916 as the first independent, public museum for contemporay art in Sweden. The building is the work of Carl Bergsten and is situated amidst the captivating natural surroundings of  Djurgården Island in Stockholm.
Liljevalchs konsthall is under the direction of Mårten Castenfors."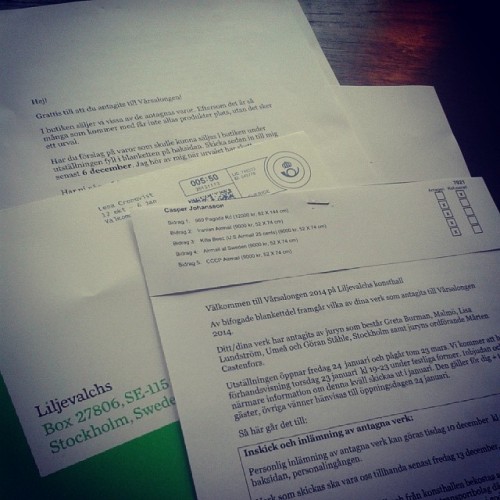 Liljevalchs is located at: Djurgårdsvägen 60, Djurgården, Stockholm
Opening hours:
Monday closed
Tuesday 11.00–20.00
Wednesday 11.00–17.00
Thursday 11.00–20.00
Friday-Sunday 11.00–17.00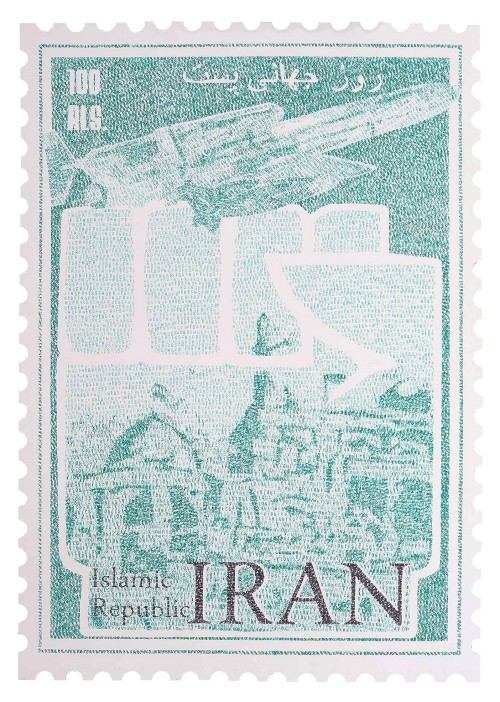 This is one of the paintings I will display at the spring salon opening. The piece is titled "Iranian Airmail" (2013) and is part of the "Distance of War" series I have been working on during 2013. The basic concept for these painting is to remake exciting airmail stamp from countries dealing with and developing drone technology. It is about a computerized and de-humanized military complex where even soldiers on the ground becomes alienated in their role as saviors. The paintings are made up by compositions of words that are being stamped, using rubber letter stamps and multiple layered stencil and rebuilt into an re-sized modified airmail stamp. This painting measures 52 x 74 cm on aquarelle paper.
More information about the Spring salon exhibition in a bit. Click for further contacts. Hope to see you at the opening, welcome!