Dear Friends, Family, Thugs and Hustlers
You are cordially invited to the opening of my 3rd solo exhibition titled "BETA Version" at Pansodan Gallery.
The opening will be held on the 10th of December 2011 on the rooftop of the Pansodan Gallery building. We are opening at 4.00pm but as soon as the sun sets we will enjoy the full moon, live performances and refreshments.
Opening at 4.00 pm, 10th December 2011
10-17 December, Daily 10.00 am – 6.00 pm
Pansodan Gallery
1st Floor, 286 Pansodan Street, Kyauktada Township, Yangon, Myanmar
09 5130846 or aungsoeminn@gmail.com, cap@capism.se
About BETA version exhibition:
With trivial manipulations I want to challenge understandings, presumptions and aspirations. By deconstructing everyday images, re-defining the information and reconstructing it back to its original form, perceptions begin conflicting and semiotic distortions transmit reverberations of the society we have come to know.
The result is an illustrated debate; it is about realizing dreams and accomplishing the impossible, open source in a reachable distance. It is about struggle, coexistence and being painfully average – perpetual BETA versions.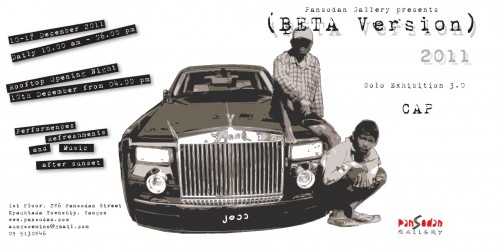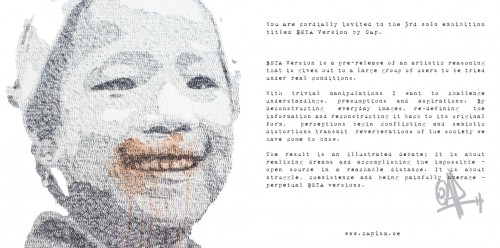 More information at: www.pansodan.com
Looking forward to see you at the opening
Cap