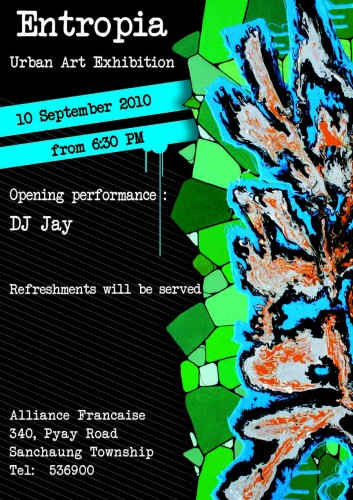 I guess it is official now. On the 10th of September my new exhibition entitled "Entropia" will open and you are cordially invited to join me for some organized chaos. I am also very happy to present the future sound of Myanmar by DJ Jay aka Dhamma Phunk who will perform on the opening and guide us to the early morning. The exhibition will be open until 18th of September.  Welcome and stay tuned for more details.
"Entropia" Urban Art Exhibition by Cap
Opening on 10 September 2010 from 6:30 PM
"Cap is an urban artist gathering energy from the streets and pouring it onto the canvas. Emerging out of aerosol fumes, these works make up 'Entropia'- an experiment with colours and styles; a visual debate and a tribute to street creativity. The result is a dyslexic dialogue supervised by gravity where the urban setting is the point of departure, setting the path to the organised chaos of nature. You are cordially invited to explore the roots of his latest creations".
Opening performance: Dhamma Phunk
DJ Jay aka Dhamma Phunk was born for future electronic music. He is specialized in minimal, electro house, tech house, funky house, electrobreak, breakbeat, drum 'n bass, dubstep and psychedelic genre for the crowd of electronic music+human mind/knowledge around the world.  If we're lucky he will spin some of his latest tunes. Check him out at:
http://www.myspace.com/djjaynirvana or http://www.facebook.com/djjaydhammaphunk
Exhibition venue:
Alliance Francaise
340, Pyay Road
Sanchaung Township
Yangon, Myanmar
Tel: 536900/537122