Hustlers and thugs, vandals and lovers, family and friends,
I arrived in Yangon, Myanmar in mid 2007. I came with very little knowledge about the country and with an open mind just days before the September uprising. Since then, I have witnessed dreams being crushed by force, hope swept away by floods and peoples voices being ignored. I have witnessed babies being born and people past away. Together we have been happy and sad. Still it has been one of my best periods in my life because you made me an artist. It is your warmth and openness that made everything possible and there is no proper way of saying thank you. But please remember that you have been and always will be a huge part of my life. Together we have achieved a lot of positive things and this is just the end of a new beginning.
I don´t want to mention any names because I don´t want to forget anyone that have been part of this journey. But what I would like to mention is three informal institutions of which my life in Myanmar have been circulated around since my arrival. In no specific order my love and respect goes out to you;
Pansodan Gallery, the hub of knowledge, hospitality and late night discussions. I have learned so much by just being around the people and the art passing through the gallery.  Also, thank you for letting me exhibit at the gallery. The 10th of December 2011 was one of my best evenings ever in my life. From that day and onwards I haven´t hesitated once when asked what I am doing for a living. I am an artist! Thank you
Thank you Side Effect for your endless friendship, for your struggles and success. For your commitment to stay independent and instead following your hearts and dreams. I wish you all the best in future and I stick to my commitment as self proclaimed driver on your world tour when the time has come. One more thing, I truly believe that we will meet in Sweden so you better change the lyrics of the song. Maybe we can control the future after all.
Thank you Yangon Street Art (YSA crew) for your attitude and generosity. You guys have been an endless source of inspiration to me and I think that if you look at my paintings you see what I mean. Thank you for keeping me being creative and for the new styles, shapes and colors you are sharing with the city late nights in Boogie Down Yangon. Also, I just sold the "Burners not Bombs" piece meaning that drinks and food is on me next time we meet. Remember, always stick together.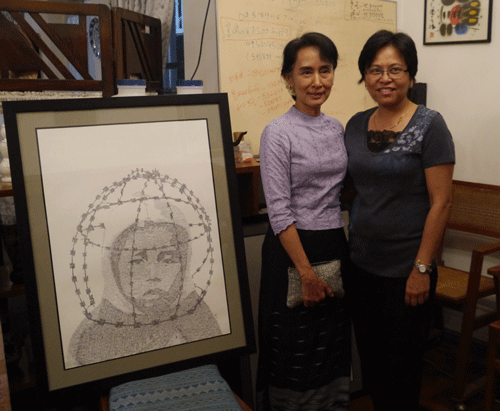 I never got the opportunity to meet Daw Aung San Suu Kyi and maybe it wasn´t meant to be. Actually I am not sure what I would say to her if I got the chance. Honestly, I think I am more happy that she had the opportunity to meet up with one of my paintings (the one in the photo is titled Painfully average) because she, along with the people of this beautiful country, have been a great inspiration in my life, in my work as an artist and in our common struggle for making this world a better place.
I will always remember all of you. Until next time, loads of love
Cap