You are all cordially invited the our art discussion:

URBAN ART: THE MERGING OF ART IN
THE PUBLIC AND PRIVATE SPHERES
at
Image Ark Gallery
Thursday 31 October at 5:30 pm
Kulimha tole, Patan
Urban Art is a steady growing form of artistic expression. Rooted in Graffiti and Street Art, it has now expanded to a wide range of techniques and art forms found in most parts of the world. The common factor defining Urban Art is the city: Colors, shapes and the physical structure of the city together with the everyday life and the vibrations of the people living in, create the foundation for what is known as Urban Art.
Urban Art, usually in the public sphere is step-by-step getting access to the private sphere, such as art galleries, homes or the commercial sector. This conversation will focus on the transition of Urban Art from the public to the private spheres.
Casper Johansson, fulltime artist, lived and worked in Burma for 6 years. He will share with Shradda Shrestha, aka Deadline, and Aditya Aryal, aka SadhuX, his experience, technique, and process of creation. Together, they will explore on how this technique can be inspiring while creating a debate on today's society.
Join us and get updates at the Facebook eventpage. Welcome!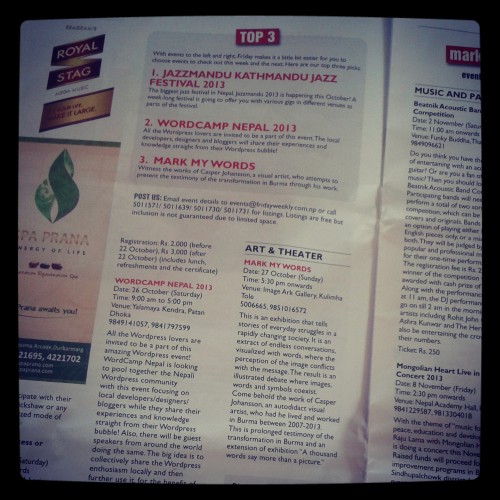 Also, according to Fr!day Events and Entertainment weekly magazine my exhibition "Mark my Words" came Top 3 on the weekly events. The blurb was published in issue 191 on 16th October 2013.
Thank you for the support.