Interview/review for my second solo show "Transition this!" at Pansodan Gallery published in Myanmar Times 12th March 2015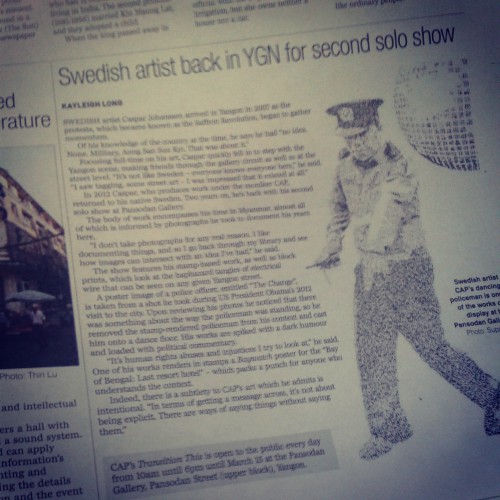 Swedish artist Caspar Johansson arrived in Yangon in 2007 as the protests, which became known as the Saffron Revolution, began to gather momentum.
Of his knowledge of the country at the time, he says he had "no idea. None. Military, Aung San Suu Kyi. That was about it."
Focusing full-time on his art, Caspar quickly fell in to step with the Yangon scene, making friends through the gallery circuit as well as at the street level. "It's not like Sweden – everyone knows everyone here," he said. "I saw tagging, some street art – I was impressed that it existed at all."
In 2012 Caspar, who produces work under the moniker CAP, returned to his native Sweden. Two years on, he's back with his second solo show at Pansodan Gallery.
The body of work encompasses his time in Myanmar, almost all of which is informed by photographs he took to document his years here.
"I don't take photographs for any real reason. I like documenting things, and so I go back through my library and see how images can intersect with an idea I've had," he said.
The show features his stamp-based work, as well as block prints, which look at the haphazard tangles of electrical wire that can be seen on any given Yangon street.
A poster image of a police officer, entitled "The Change", is taken from a shot he took during US President Obama's 2012 visit to the city. Upon reviewing his photos he noticed that there was something about the way the policeman was standing, so he removed the stamp-rendered policeman from his context and cast him onto a dance floor. His works are spiked with a dark humour and loaded with political commentary.
"It's human rights abuses and injustices I try to look at," he said.  One of his works renders in stamps a Baywatch poster for the "Bay of Bengal: Last resort hotel" – which packs a punch for anyone who understands the context.
Indeed, there is a subtlety to CAP's art which he admits is intentional. "In terms of getting a message across, it's not about being explicit. There are ways of saying things without saying them.