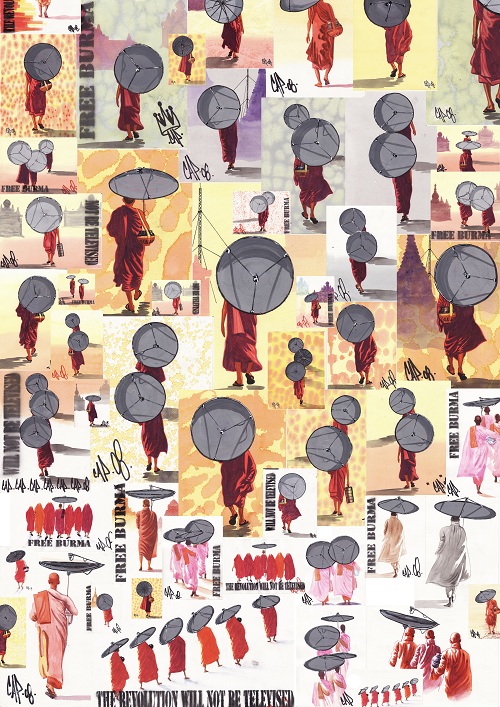 This was one on my responses to the military crackdown of the non-violent protests in Burma/Myanmar during September 2007 uprising, more known as the Saffron Revolution. The collage is a photo collection of the many souvenir postcards "remakes", portraying monks walking against the light, I made during 2008. The remakes were quite simple. I only changed the traditional umbrellas into satellite dishes and adding short messages, such as Free Burma and The revolution will not be televised. I then put them up in public areas wherever I was. I only know the destiny for some of them but I hope the message came through.
I chose those postcards because they are hand-made mass-produced for tourists and anyone that have been to Burma have seen them at some point of their journey. A well established trademark of the country and I thought that using the same representation but adding my messages could draw attention to the current situation in the country. Moreover, the monks quickly became the main icon of the protests but no one should forget all brave people that were part of and are still struggling for justice and democracy.
As a result of the remade postcards I also did a series of acrylic painting on the same subject, which was displayed on my first soloshow titled enCAPsuled. They have been very important to me for several reasons and the most significant reason is that I have experienced the power of creating art and the how it can interact with its viewers. And now after five years in Burma I realized more and more that what we as artists have been and will be doing in the future counts.
Now the monks are on parade again. This time in Mandalay, but this time I have no compassion for their cause what so ever. We are all equal, diversity is strength. Peace yo!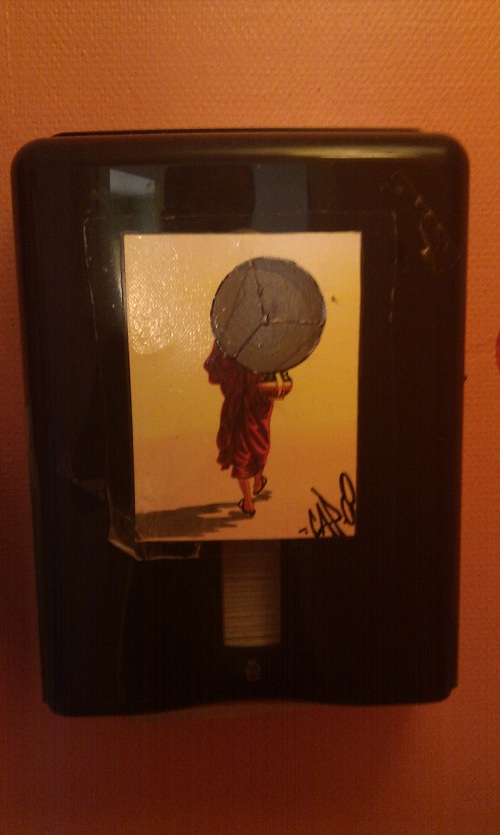 This one was spotted by a friend of mine in Göteborg. have you seen any more? Can you find it this one in the collage?