Here are some sweet words about my exhibition "Mark my words" at Image Ark gallery published in The Himalayan Times. Thank you very much for the support and for showing interest in my art. The complete article can be found here or read it below.  The exhibition is open until 29th of November 2013, Enjoy!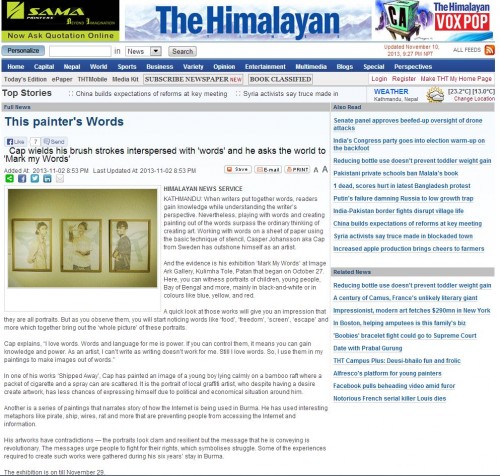 KATHMANDU: When writers put together words, readers gain knowledge while understanding the writer's perspective. Nevertheless, playing with words and creating painting out of the words surpass the ordinary thinking of creating art. Working with words on a sheet of paper using the basic technique of stencil, Casper Johansson aka Cap from Sweden has outshone himself as an artist.
And the evidence is his exhibition 'Mark My Words' at Image Ark Gallery, Kulimha Tole, Patan that began on October 27. Here, you can witness portraits of children, young people, Bay of Bengal and more, mainly in black-and-white or in colours like blue, yellow, and red.
A quick look at those works will give you an impression that they are all portraits. But as you observe them, you will start noticing words like 'food', 'freedom', 'screen', 'escape' and more which together bring out the 'whole picture' of these portraits.
Cap explains, "I love words. Words and language for me is power. If you can control them, it means you can gain knowledge and power. As an artist, I can't write as writing doesn't work for me. Still I love words. So, I use them in my paintings to make images out of words."
In one of his works 'Shipped Away', Cap has painted an image of a young boy lying calmly on a bamboo raft where a packet of cigarette and a spray can are scattered. It is the portrait of local graffiti artist, who despite having a desire create artwork, has less chances of expressing himself due to political and economical situation around him.
Another is a series of paintings that narrates story of how the Internet is being used in Burma. He has used interesting metaphors like pirate, ship, wires, rat and more that are preventing people from accessing the Internet and information.
His artworks have contradictions — the portraits look clam and resilient but the message that he is conveying is revolutionary. The messages urge people to fight for their rights, which symbolises struggle. Some of the experiences required to create such works were gathered during his six years' stay in Burma.
The exhibition is on till November 29.
The newspaper also published a picture of my new triptic piece titled "Undisciplined tribe", 2013, Ink on paper, 3 x 56 x 76 cm