Some more words about my exhibition "Mark my Words" published in The Kathmandu Post on the 21st October 2013. Thanks for the support.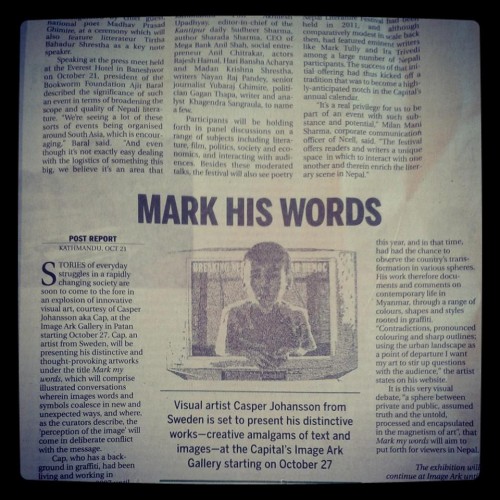 Printed version
KATHMANDU, OCT 21 –
Stories of everyday struggles in a rapidly changing society are soon to come to the fore in an explosion of innovative visual art, courtesy of Casper Johansson aka Cap, at the Image Ark Gallery in Patan starting October 27. Cap, an artist from Sweden, will be presenting his distinctive and thought-provoking artworks under the title Mark my words, which will comprise illustrated conversations wherein images words and symbols coalesce in new and unexpected ways, and where, as the curators describe, the 'perception of the image' will come in deliberate conflict with the message.
Cap, who has a background in graffiti, had been living and working in Myanmar since 2007 until this year, and in that time, had had the chance to observe the country's transformation in various spheres. His work therefore documents and comments on contemporary life in Myanmar, through a range of colours, shapes and styles rooted in graffiti. "Contradictions, pronounced colouring and sharp outlines; using the urban landscape as a point of departure I want my art to stir up questions with the audience," the artist states on his website.
It is this very visual debate, "a sphere between private and public, assumed truth and the untold, processed and encapsulated in the magnetism of art", that Mark my words will aim to put forth for viewers in Nepal.
The exhibition will
continue at Image Ark until October 29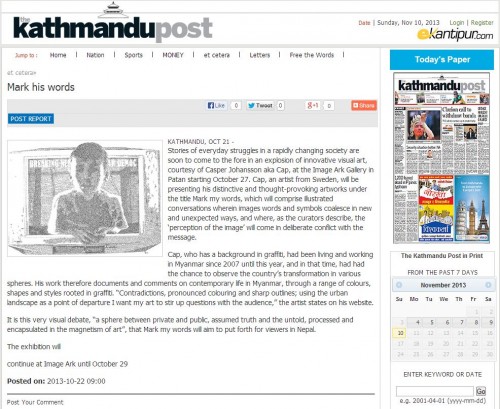 Online version