You are all cordially invited to my upcoming solo exhibition titled Mark my Words at Gallery Image Ark in Kathmandu, Nepal. The opening will be held on Sunday the 27th of October at 5:30 p.m. The gallery is located at Kulimha Tole, Ward No.9, Lalitpur. My work will be displayed at the gallery until 29th of November. Welcome.
Here are some few word about my exhibition.
Manipulated images, fractions of a context and repetition of words thousands of times – and you start to get the whole picture. The exhibition Mark my words at Image Ark Gallery tells stories of everyday struggles in a rapidly changing society. It is an extract of endless conversations, visualized with words, where the perception of the image conflicts with the message. The result is an illustrated debate where images, words and symbols coexist. With inkpads and alphabetic rubber stamps, using multiple layered stencils, Casper's art can be defined as 'retouched realism'. Silent shouts embedded in elements of hope, struggle and resistance.
Mark my words is a prolonged testimony of the transformation in Myanmar/Burma and an extension of the exhibition A thousand words says more than a picture.
For updated and further details pls join us on our facebook event.

My exhibition was also covered in today's issue of The Kathmandu Post both in the printed and the epaper version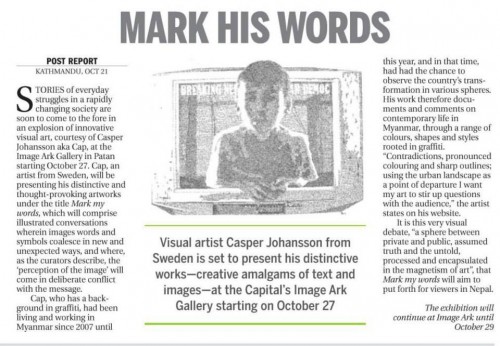 Beside from being an art gallery, Image Ark is also a creative studio. In their own words "We are a team of communication professionals and artists whose objective is to find effective and modern solutions for our clients' communication needs. We share a passion for original, meaningful and contemporary communication through graphic design, photography, film production and interactive web design". If you have the chance you should definitely go visit the gallery/studio. For inquiries they can be reached here.