I am very happy to announce that I will be part of the exhibition "Fresh Legs 2015" opening at Gallery Heike-Arndt in Berlin on the 3rd of June 2015. The gallery is located at Voigstrasse 12, 10247 Berlin- Friedrichshain and the doors are opening at 7 pm and you are all welcome. At the bottom of the post you will find a brief introduction to the gallery and the exhibition in thier own words. If you need any more information you can contact the gallery here. Really looking forward to see you at the opening! Welcome!
Here is the link for the facebook invitation for the event. Pls share among the ones you love. https://www.facebook.com/events/1547219592213744/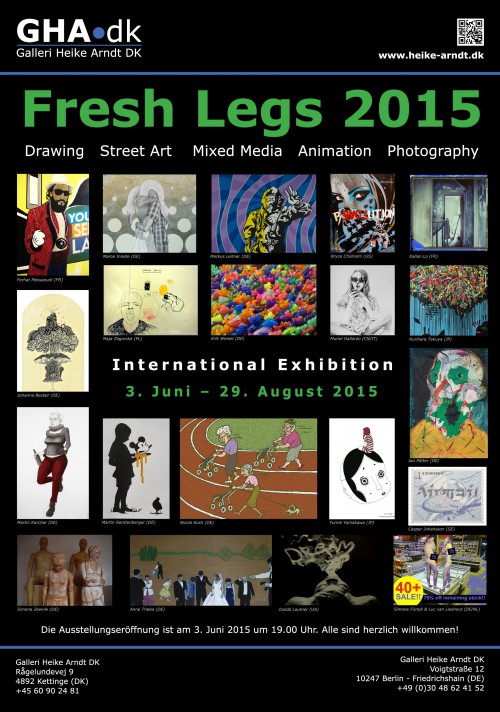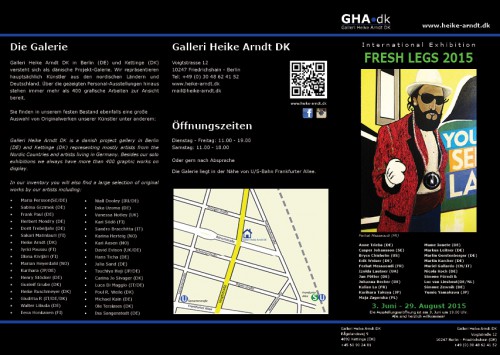 "In the annual Fresh Legs open call exhibition 2015 Galleri Heike Arndt DK proudly presents 20 talented emerging, international artists with unique styles, techniques and materials. Key concepts include portraying aspects of humanity as well as concerns about the development of our current society as interpreted by the artist's individual expressions. Fresh Legs brings bold street art influences mixed with crisp drawings, social criticism with a dash of humor and challenging installations, the result is a mesmerizing and exciting group show that radiates with color and movement.
A total of 99 artists applied with nearly 1,000 artworks for the Fresh Legs show. After a long and comprehensive screening process 20 artists were chosen. The Fresh Legs exhibition highlights a curated selection of these undiscovered rough artistic diamonds – and we are excited to follow their journey and see how they will cut and form their artistic edges. Experience the sharp social criticism in the works of Pötter (DE) and Gerstenberger (DE), the perfectly captured contemporary life in the works of Gallardo (CN/TT), Karcher (DE) and Zagorska (PL). In the pieces of Chisholm (US), Messaoudi (FR) and Lautner (UA) we are exposed to refined technical skills with strong influences from street art in layers of cut-outs, stencils and spray paint. The artworks of Koch (DE) and Furedi & Lieshout (DE/NL) brings our attention to the values of our current society in photographs and illustrations using a large dose of humor. In experimental use of materials and techniques – from stamp-like drawings, colorful paintings and sewn pigskin to plastic reflex-pieces used in traffic – the works of Weiser (DE), Zewnik (DE) Takuya (JP), Johansson (SE) and Trieba (DE) amaze and draw us in to examine them closer. Yamakawa (JP) and Innete (DE) explore human relationships, loneliness and the fragility of the fleeting moment in illustrations and drawings. The photographs of Kalian Lo (FR) and the drawings of Becker (DE) take us on a journey to explore the environment and abandoned places of our time.
Fresh Legs aim to promote yet undiscovered artists in drawing, street art, illustration, mixed media and similar fields. Galleri Heike Arndt DK offers a platform for artists from these fields to exhibit together and discuss the ideas highlighted in these contemporary art forms with each other and with the audience. A Berlin exhibition you absolutely do not want to miss!"