My solo exhibition "Behovet av en kraft att reagera mot" (The need of a force to react to) will be opened on the 1st of May at Not Quite Arthall in Fengersfors. I will display a selection of paintings, graphic prints, diarama and a sculpture in Ocenhallen (3rd floor). If you want to know more about the exhibition please visit their webpage under current exhibitions.
Information will be updated!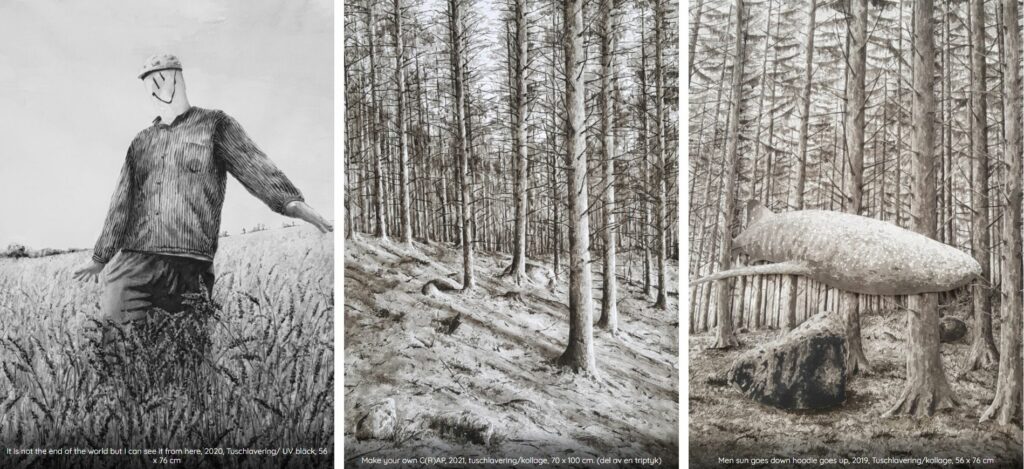 About the exhibition (swedish)
Utställningen "Behovet av en kraft att reagera mot" är en berättelse om reträtt från verkligheten. En berättelse om ett liv fyllt av kärlek och ting men där ensamheten är konstant. Ett tillstånd som både är bekvämt och skaver. Men om ensamheten är självvald. Går det då att vara en del av ett större sammanhang ifall en väljer flykt redan i tidig ålder?
Utgångspunkten för utställningen är en kortnovell jag skrev i årskurs 3 på Norra skolan i Vänersborg och som handlar om en pojke på rymmen. Fragment av berättelsen har etsats fast i minnet men centralt i berättelsen är att pojken aldrig förmådde sig att helt slita sig från sin omgivning. Känslan av två världar som inte fogar sig har sedan dess följt mig genom livet och det är friktionen mellan dessa världar som jag gestaltar. Genom att porträttera fragmenten, plocka dem ur sitt sammanhang och föra dem samman i en ny kontext vill jag skapa ett drömskt landskap. En ny värld där målet är en känsla av viktlöshet, en plats där trycket från såväl människan och samhället upphör. En fristad för reflektion där drömmar och framtiden inte längre är en tillsvidarelösning. Ett kravlöst tillstånd och en förgylld plats där världarna fogar sig och där gränser suddas ut.
Utställningen "Behovet av en kraft att reagera mot" är självupplevda händelser där jag vänder mig inåt för att sondera terrängen gällande uppväxt, arv och ensamhet. Erfarenheter som utforskar människan och hennes inre och yttre världar och ständiga tillblivelse. Hur minnet av okontrollerbara skeenden och erfarenheter formar oss till människor och hur dessa styr människans val genom livet.
Hope to see you at the opening!