Tomorrow it is 25 years since the rise of the 88 movement and a long struggle for peace and justice in Myanmar. It is also one of the first times it will be honoured open and public nationwide in the country. Something that would have been impossible and even dangerous a few years back. Even during my stay in the country. I became very inspired by the brave people of Myanmar, some dating back to the 8-8-88 movement, but also people of the September uprising in 2007 and all the people who are struggling daily but continue to be unheard of.
I did this painting in 2009. Inspired by Myanmar artists; their incredible talent of conveying political messages, document the history, spreading hope through their art using encrypted messages. I made this painting which is titled "toiR". Read the title from right to left and it says "Riot". It is a play with words, a hidden message, which carries a lot of symbolism. Riot can be read as Rangoon Institute Of Technology. The institute was an important centre for students to organize the protest against the regime during the uprising. But it was also the ground where some of the first clashes took place between people and the military that feed the violence and left thousands of innocent people killed in the aftermath.
To the left in the painting I have written binary code with spraypaint. It says 08-00-08-08-88, an encrypted message saying eight o´clock in the morning on the 8th of august 1988 and it is a tribute to the all people who stands up against oppression, then, today and tomorrow. Never forgotten, this painting is for you.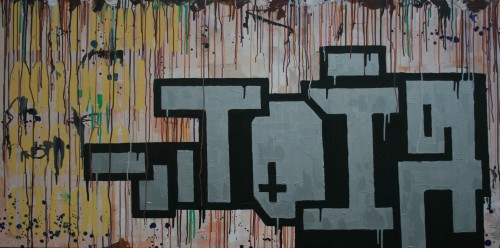 toiR, 2009, mixed media on canvas, 3 X 6 feet