Family, friends, hustlers and thugz,
As you may know I have an upcoming exhibition titled "Entropia" at Alliance Française in Yangon, Myanmar on Friday the 10th of September. Today that is!! As many of you are spread around the world and only can attend in spirit during the opening (If the spirit is available that is) I would like to give you the opportunity to see my work regardless of you location. Therefore, I will upload all the paintings on my webpage at www.capism.se/news for your comments and thoughts.
If you by any chance would like any of the paintings and are interested in buying, please send an email to cap@capism.se and mention which painting you like, why you are interested in this specific painting and how much you are willing to pay for it. Regarding shipping costs I guess we have to discuss at a later stage. The reason for having this "bidding in the dark" system is to give all people, regardless of income and location, the opportunity to buy my art. If you have any question about the paintings please do not hesitate to contact me. Scroll down the news section and check out my latest work, enjoy!
The paintings will be uploaded tomorrow and the successful bidder will be contacted after the 18th of September when the exhibition is closed.
I really wish you were with me this special evening, all the best
Peace, love and enamel paint
Cap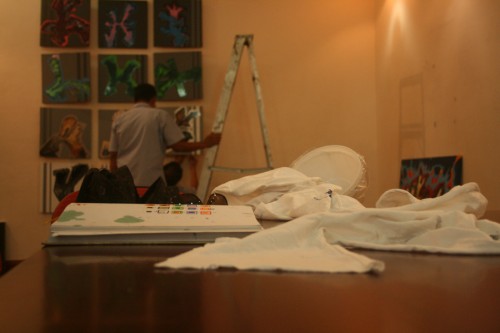 A to the Z prep work for "Entropia" art exhibition. OPENING TODAY