I am happy to announce that I will be part of the group exhibition OPDAGELSER 2015. The exhibition will be held at Gallery Heike-Arndt in Kettinge, Denmark.
The opening will be held on 7 november 2015 kl. 13:00 -17
The exhibition is on between Novembet 7 – December 21
Galleri Heike Arndt DK
Rågelundevej 9
4892 Kettinge (DK)
+45 60 90 24 81
Here are a few words about the exhibition (in danish). Enjoy!
Opdagelser samler de bedste kunstnere fra årets udstillinger – 14 ekstraordinære kunstneriske opdagelser fra USA, Finland, Tyskland, Japan, Poland, Schweiz og Sverige, der alle har forbindelse til Norden og Tyskland. Anssi Hanhela (FI), Anni Rapinoja (FI), Jussi Valtakari (FI) and Kari Södö (FI) arbejder med innovativ brug af naturens ressourcer i håndlavede objekter, der står side om side med street art og stærke og politiske udsagn. Oplev den skarpe, sociale kritik i værkerne af Pötter (DE), den stærke fremstilling af det moderne liv i værkerne af Karcher (DE) og Zagorska (PL). I Chisholm (US) and Lautners (UA) værker præsenteres vi for raffinerede tekniske færdigheder med stærk indflydelse fra street art i lag af udklip, stencils og spraymaling. Füredi & Lieshouts (DE/NL) og Johanssons (SE) kunstværker fører vores opmærksomhed hen på vores nuværende samfunds værdier. De eksperimenterende farverige malerier, af Kurihara (JP) og mangategninger af Yamakawa (JP) der undersøger menneskelige relationer, ensomhed og skrøbeligheden indbyder til fordybelse.Ved hjælp af deres unikke stil og omfattende brug af forskellige materialer, der rangerer fra papir, lærred, tekstil til træ vil kunstnerne tage dig med på en rejse gennem tegneteknik, malerkunst, street art og skulptur mm. Det bliver en rejse fuld af overraskelser og opdagelser! Urbane vibrationer, poetisk farvelægning og legende humor vil være din ledsagerske i denne udstilling, så det bliver med garanti interessant! Kom og vær med! Dette er en mulighed for at blive inspireret, begejstret og involveret. Der er noget for alle i Opdagelser!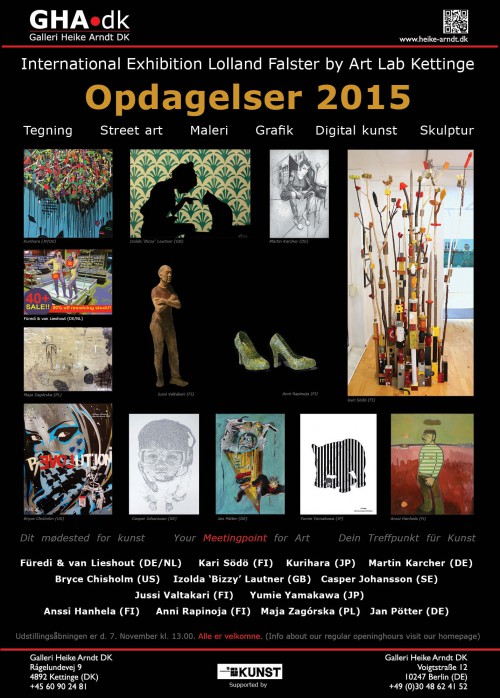 Link to Facebook event: https://www.facebook.com/events/204972283167098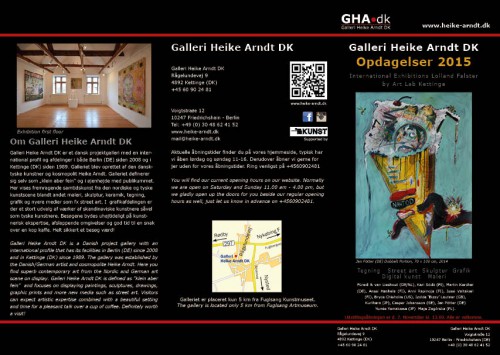 Please come join us!